Description
Overview
For the cellist venturing into the world of the electric, this instrument offers the combination of design, performance and affordability exceeding any other instrument in its class. Compact and light (4.5 pounds!), the WAV cello is a pleasure to travel with, but in terms of features and performance, this instrument is no lightweight. True to the NS tradition, the WAV captures the essence of an acoustic, yet opens up an exciting range of new possibilities.
With electronics are fully based around the NS patented Polar™ Pickup System, the WAV provides amazingly natural cello tone, with freedom from feedback and wolf tones. Since 100% of the sound comes via the pickup, using looping and other electronic effects is easy and far more effective than with an amplified acoustic.
The body design allows effortless access to the full range of the fingerboard, and unparalleled freedom of movement on stage. The special asymmetrical fingerboard relief, a hallmark of all NS bowed electrics, provides extraordinary ease of playability from the lowest to the highest positions. To suit individual player preferences, the string heights can be modified via remarkably simple bridge height adjustment, and the fingerboard relief can be modified using the readily accessible two-way truss rod.
The WAV cello is available in 4 or 5 string models with a variety of color options. The instrument purchase includes a deluxe gig bag, owner's manual and tool kit.
Features & Highlights
NS Electric Strings and most traditional acoustic strings fit all NS Cellos, allowing the player to select from a wide range, each with a unique sound a feel. In combination with the easy adjustment of basic set-up parameters, the WAV cello is adaptable to a nearly limitless range of music styles.
A fully adjustable cello tripod stand can be used seated or standing. The optional Cello End Pin Stand provides the seated cellist familiar points of thigh contact and position. The optional Boomerang™ Strap System and The Frame Strap System allow the cellist to stand up with full mobility for a new experience of freedom and expression.
The WAV electric cello brings unprecedented affordability to the player interested in world-class design, craftsmanship and performance. With a visual appearance a striking as its sound, the roadworthy WAV is an exciting and reliable partner for the most demanding performance career.
Specifications
LENGTH: 94.2 cm (37″)
WIDTH: 13.9 cm (5.5″)
THICKNESS: 9.4 cm (3.7″)
WEIGHT:
4 string: 2 kg (4.5 lbs.)
5 string: 2.1 kg (4.7 lbs.)
SCALE LENGTH: 69.5 cm (27.36″)
BODY/NECK: Solid, straight grain maple neck and body. Flame maple face on all colors: Amberburst, Transparent Red, and Transparent Black.
FINGERBOARD: Asymmetrical fingerboard relief. Intonation referenced with cascading dot markers. Rosewood or Coform™.
TRUSS ROD: Two-way truss rod, accessible at neck.
TUNING HARDWARE: Fully encased worm gear tuners, black finish.
STRINGING: 4 string tuning: C G D A5 string tuning: Low F C G D A; High E tuning also available by request: C G D A E.
STRINGS: NS Electric Cello Strings supplied; the NS is designed to fit and is compatible with most standard strings.
BRIDGE PICKUP: The NS Cello features the Polar bridge-mounted piezo pickup system which responds selectively to either vertical vibration (for the sustained plucked sound, like an electric bass guitar), or lateral vibration (for dynamic bowing, and a percussive plucked sound).
ELECTRONICS & CONTROLS: Passive circuit with high impedance output, no batteries required. Rotary for Volume, Tone (Treble roll off), 2-way toggle switch for Polar Pickup System.
Performance Support Systems
NXT CELLO TRIPOD STAND: is made with black painted steel. It has a self-standing tripod design and is fully adjustable. The stand folds for easy storage and fits into the WAV, NXT or CR gig bag. Weight is 2 kg (4.5 lbs.).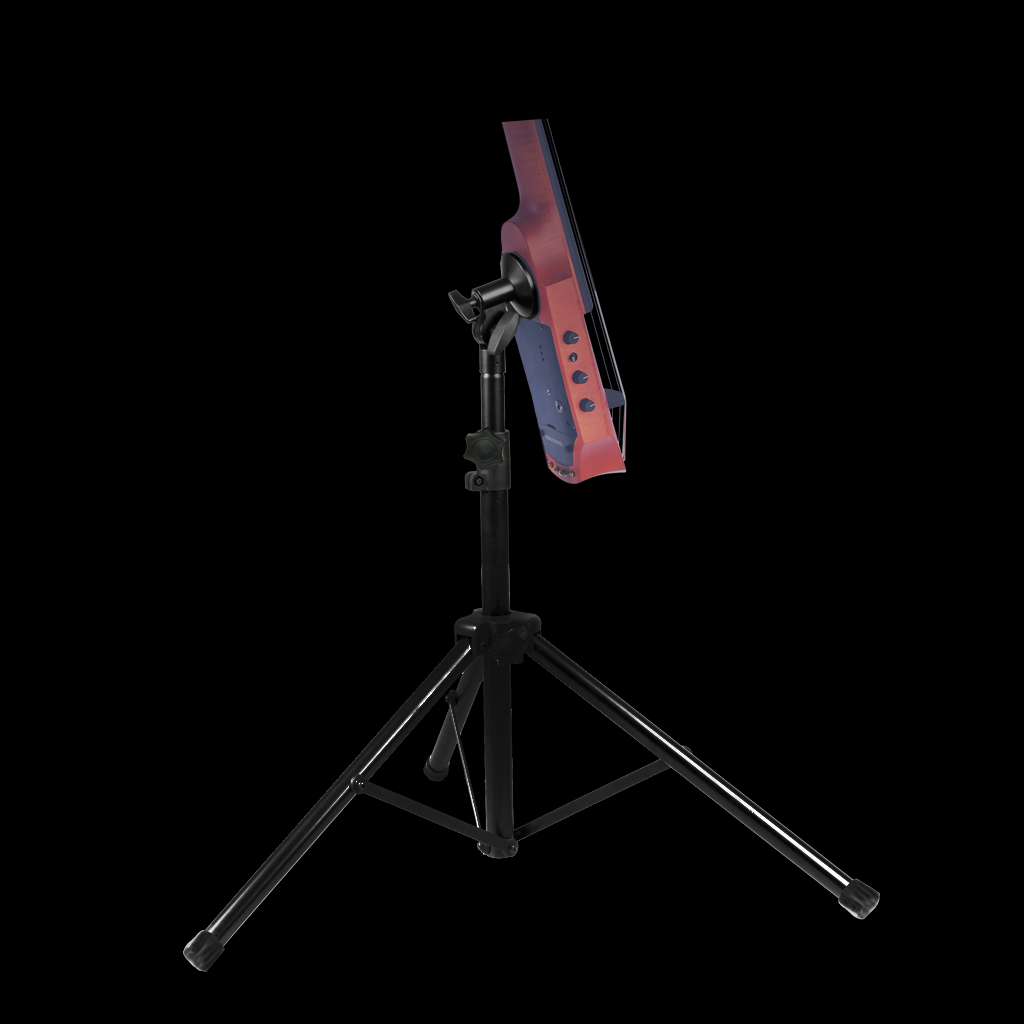 CELLO END PIN STAND: The optional Cello End Pin Stand has traditional knee and chest contact points for seated play. The height, knee rest position and instrument angle are adjustable. Weight is 1.36kg (3 lbs.)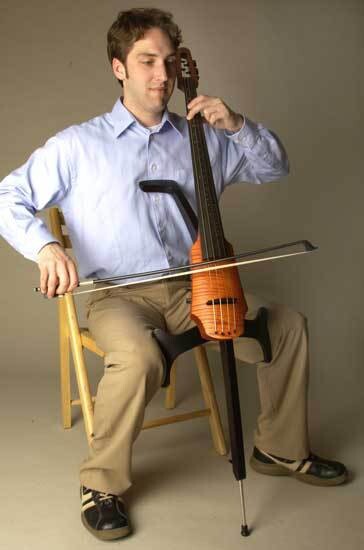 CR TRIPOD STAND: Optional fully adjustable steel tripod stand. Weight is 3.6kg (8 lbs.).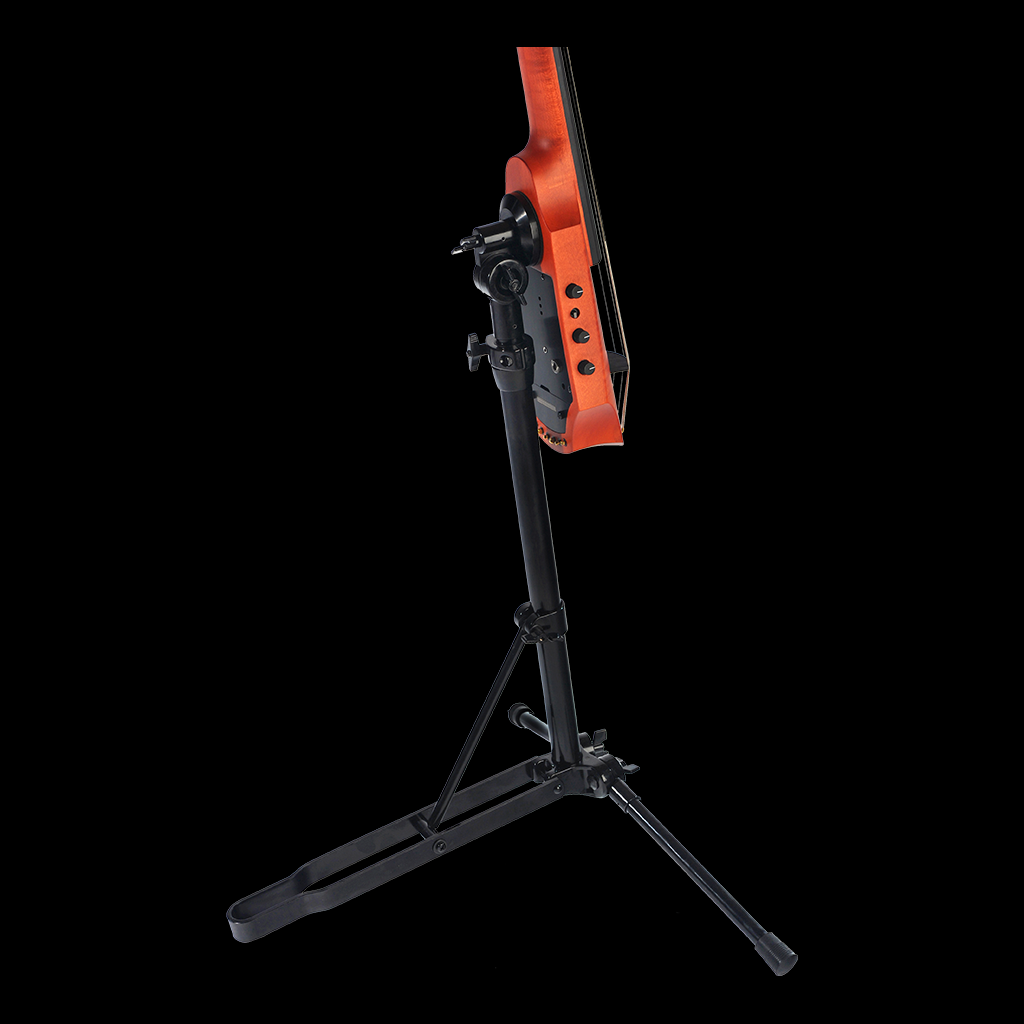 BASS END PIN STAND: The Bass End Pin Stand offers full freedom of movement. Height, tilt and "right bout" angle are fully adjustable providing a more conventional feel. Weight 2.3 kg (5 lbs).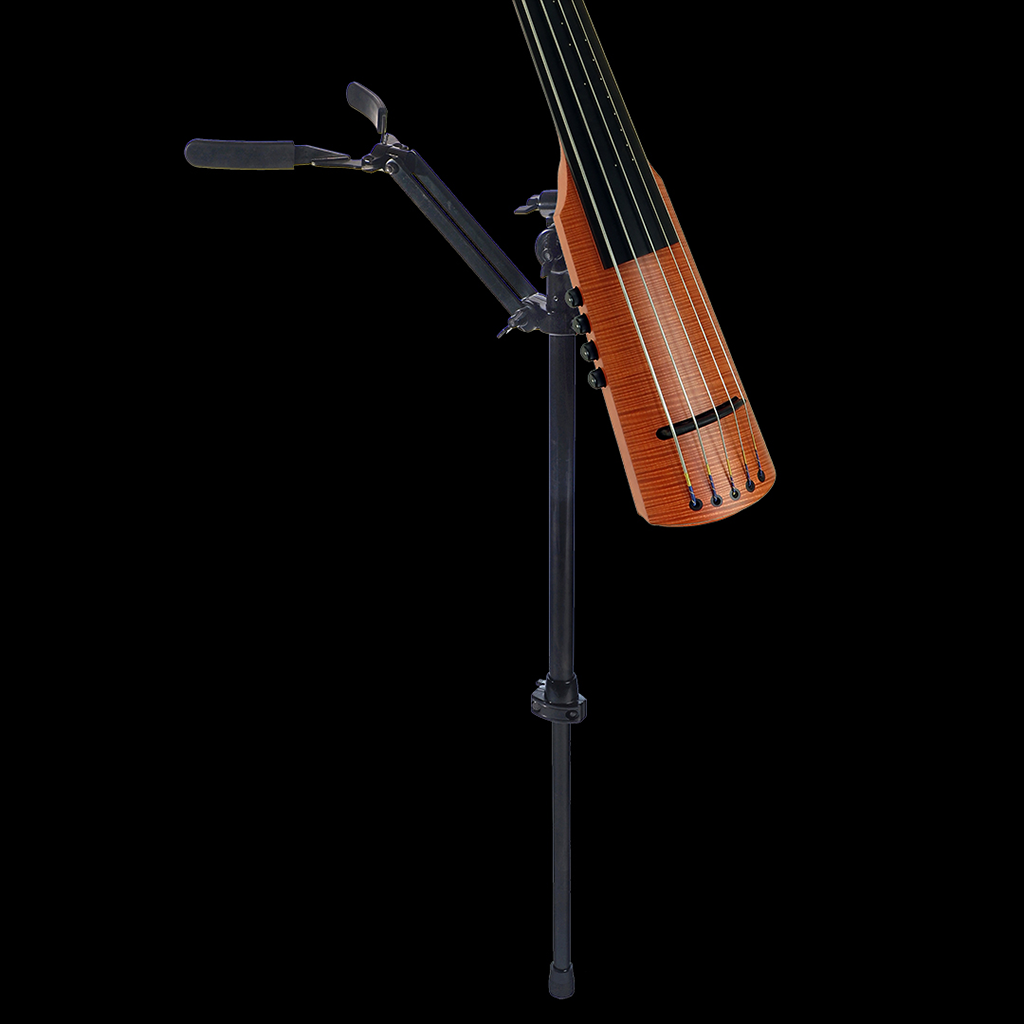 BASS END PIN STAND CONVERSION KIT: To hold the instrument upright for on-stand performance or when not in use, the Bass End Pin Stand can be attached to the CR Tripod Stand (not compatible with the NXT Tripod Stand) using the optional End Pin Stand Conversion Kit.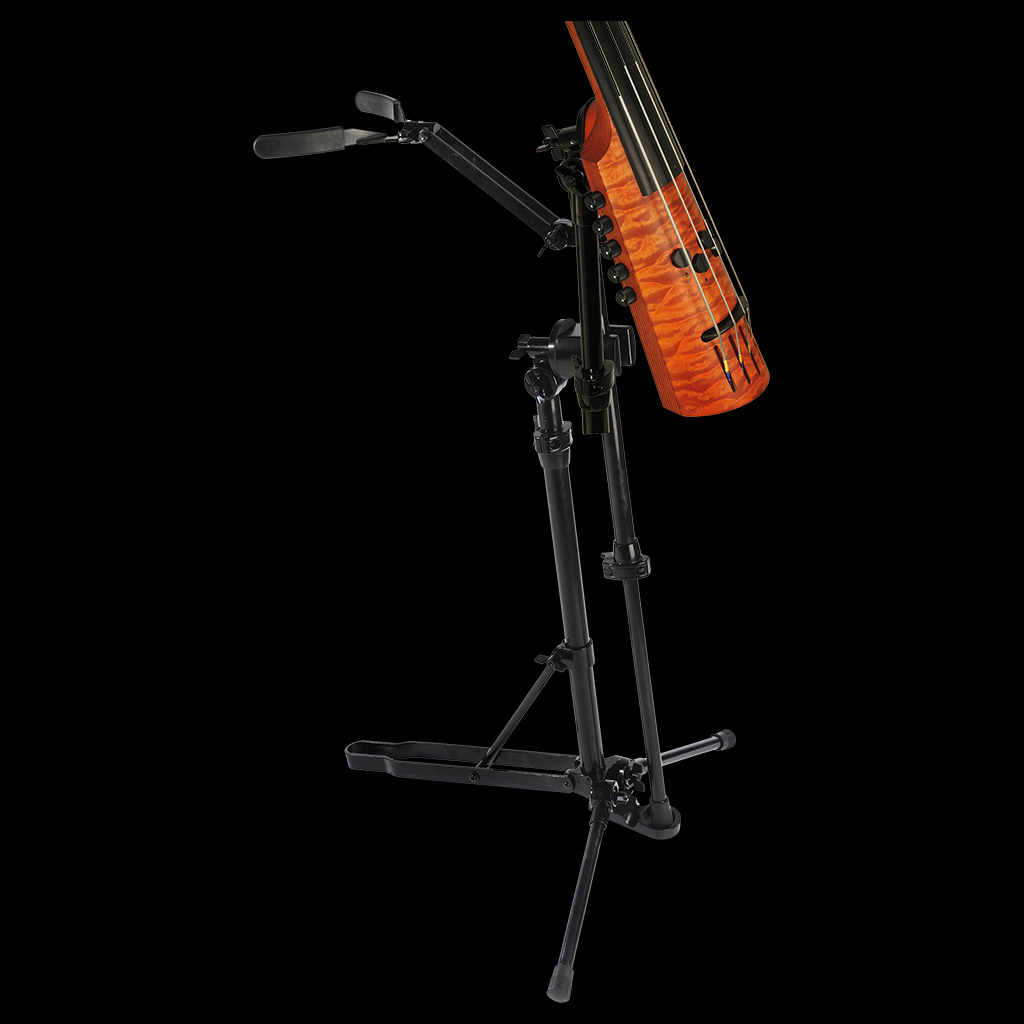 BOOMERANG STRAP SYSTEM: This optional support system has a pivoting friction hub that holds the instrument firmly in place close to the body. Attached with a guitar style strap to its two support arms, the system allows the instrument to be moved into virtually any position in relation to the hands and body as it is played. Weight is .45 kg (1 lbs.).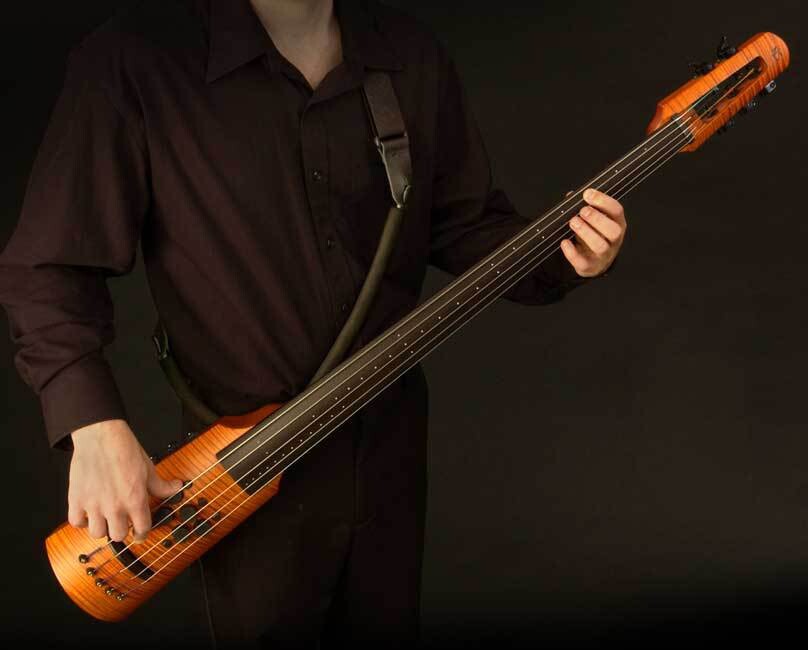 FRAME STRAP SYSTEM: This optional accessory is a lightweight frame structure that allows full mobility to perform in standing or upright position, holding the instrument out from the body similar to the reference in traditional positioning. The system is supported by a single guitar style strap extending over the left shoulder. Weight is 0.68kg (1.5 lbs.).